---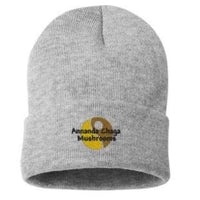 Official Annanda chaga Sportsman Toque
For hunting chaga or just exploring the great Canadian wilderness. 12 Inch Solid Knit Toque - One Size fits all. Heather Grey. Machine washable.
Toques are go-to winter headwear that help keep cold at bay while adding a touch of style to any outfit. Your Annanda Chaga beanie is a fashion-forward accessory that comes in one size that fits all with a fold-over cuff that gives the hat a personal flair.
100% acrylic knit
One size fits most
12" H x 7.5" W
3" adjustable cuff
Redeem Annanda Chunk Bucks for this FREE Gift!
Launch the Widget
Convert Chunk Bucks
into Checkout Coupons
Add
this
product to your shopping cart
apply your coupon code at checkout for 100% off
(Limit 1 coupon per order - Shipping costs may apply)